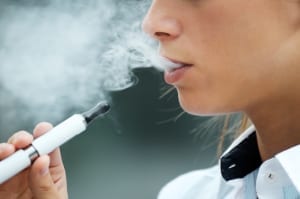 It's February…a month that intentionally focuses on love! According to history.com, "approximately 150 million Valentine's Day cards are exchanged annually, making Valentine's Day the second most popular card-sending holiday after Christmas." Yes, it has become a "Hallmark" kind of month, but it's also become heart health awareness month. With heart disease being the number one leading cause of death, heart health awareness should be every month!
You may be thinking that heart disease doesn't run in your family, but are you considering your daily habits and are those habits heart healthy? Eating an unhealthy, artery-clogging diet is certainly a fast ticket to a possible heart attack, but so is smoking. 480,000 people die every year from smoking cigarettes. Smoking is harmful to every part of the body…especially the heart! There are chemical toxins in tobacco that damage the health of blood vessels and the heart. The damage increases the risk of plaque within the arterial walls, known as atherosclerosis. When arteries get layers of plaque residue and build up then the arteries become small and narrow causing a restriction of blood flow throughout the body, thus damaging the heart and all other organs as well.
CVS drug stores recently made a decision to stop selling all tobacco products in their stores nationwide. According to the Associated Press, "they could lose about $2 billion in annual revenue by phasing out all tobacco products." My hat goes off to CVS for doing what is right in this arena and putting dollars aside. Maybe others will follow suit. The good news is that the $2 billion dollars they'll lose will be gained in other product sales. Just like most of us, it's difficult to go into CVS or any other corner store and buy just one item. These types of stores are clever in their marketing and placement of "gotta have it" items. Go in for a greeting card and the next thing you know, you've got shampoo and eye shadow in your hand. Well, at least that's what happened to me the other day! Hey, what can I say…they were on sale! I needed both items and I didn't have to go to another store. Convenience rules on many levels.
Ok, I have digressed. Let's get back to the cigs, shall we? Yes, cigarettes are phasing out of our culture mainly because the ones smoking them are dying and family and friends watching are finally putting the puzzle pieces together that smoking is a big culprit to heart disease and lung cancer. BUT…there is a misconception to the new electronic cigarettes (aka…e-cigs) that are on the market now. People that are "quitting" cigarettes are shifting to e-cigs and kids are now doing it too because it's considered "cool." There are no FDA regulations on e-cigs currently because they don't fall under the "tobacco umbrella." So, that means there are no laws that prohibit selling e-cigs to minors when purchasing on the web. According to the Centers for Disease Control and Prevention, last year nearly 1.8 million teens said they had used e-cigarettes at least once. RED FLAGS everywhere – can't you see them? E-cigs are equally as addicting as cigarettes. Don't let the advertisers fool you. Nicotine is the third most addicting drug in the world! E-cigs do contain nicotine.
The toxins and chemicals in tobacco cigarettes and in the "e-juice" of e-cigs is mind blowing. E-cigs contain multiple chemicals, of which one of them is called diethyelene glycol, which is found in antifreeze. Yikes! Even if e-cigs have fewer toxins (i.e. Antifreeze) than cigarettes, when is it ever okay to have "fewer" toxins in the body? Isn't the best answer to have no toxins in the body and to become as chemical-free as possible? Obviously, the answer to that is yes.
It's time to take heart-health awareness month to a new level starting with yourself or anyone you know that partakes in smoking. If you desire a quality life of longevity and vitality then it's never too late to stop. The average person can stop in less than two weeks if they are ready and willing. It's time to take back your health and regain energy…your heart will thank you over and over again with every beat it makes without struggle or strain.