Looking to lift, tone, and shape up your booty? Well, you are not alone—90% of the people I train seek ways to improve their rear view. Granted, we are all built differently due to our genetic make-up, but there are always ways to improve your booty with a basic butt workout.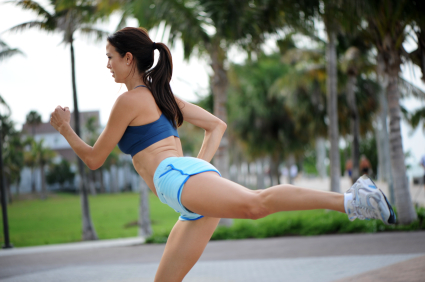 The butt consists of three main muscles: the gluteus maximus, gluteus medius, and gluteus minimus. They work together to help us move our upper legs in all directions. Contrary to what many people may think, the butt's function is not for sitting! Although, there seems to be an epidemic of people that use the butt for the sitting function only. Its true function is for walking, running, squatting, jumping, and basically moving us in motion.
The best butt workout consists of basic exercises such as squats, jump squats, lunges, walking lunges, step-ups, and butt squeezes (isotension). If you are looking to really get a fit fanny then keep in mind that the quality of your butt workout overrides the quantity. You should listen to your body and make sure you only push yourself to a safe, but effective level. The quality (perfection) of the exercise is the most important rule to remember. You don't want to compromise your back or knees just because you think you have to get in a "certain number" of reps. Your body will let you know—don't ignore its signals to take a rest or stop completely, or maybe it's telling you to ramp it up a bit. You'll know if you just pay attention.
Keep in mind when doing your butt workout that you must concentrate on contracting and applying proper tension to your glutes on every repetition and with every isotension exercise for maximum results. For some reason, in the beginning, many of the female clients that I train tend to have difficulty understanding how to contract their glutes properly during the exercises.
Give yourself time to get used to applying tension and thinking into the muscles that you are working in your butt workout. Consistency is the key for change and practice makes permanent! Once you understand and apply those rules, then you will have passed the "Butt Workout 101" course!