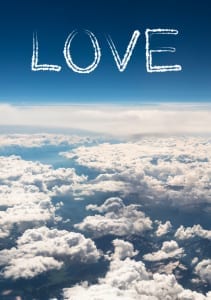 It's Valentine's Day/Weekend and love is in the air.
……Or is it?
Is it real authentic love or a "Hallmark…must do" kind of love? It seems as if this day has been treated like a "love on steroids" kind of day. Why so much pressure?
To me, love isn't a one-day test, but an everyday event. Whether or not we realize it, God linked us together for at least one very specific purpose: that of loving one another, all the while working to iron out the idiosyncrasies that come with relationship. Love to me is not a box of chocolates, flowers, or going out to a fine restaurant for Valentine's evening…although a very nice gesture. I would rather make a romantic healthy meal for my husband, curl up by the fire together and be fully engaged with beautiful conversation and laughter. No pressure…just authentic friendship and love.
The NIV Bible version agrees, splashing the word "love" some 551 times over its pages. And yet what does it truly mean to deeply love someone – yes, even more than ourselves? I believe 1 Corinthians 13:4-7 says it best –
"Love is patient, love is kind. It does not envy, it does not boast,
   it is not proud. It does not dishonor others, it is not self-seeking,
  it is not easily angered, it keeps no record of wrongs. Love does
   not delight in evil but rejoices with the truth. It always protects,
  always trusts, always hopes, always perseveres."
We were created in God's image and are to love God with all our heart, soul, mind, and strength. We are to love our neighbor as we love ourselves. And that is usually where the disconnect takes place…the "loving ourselves" piece of the equation. Love starts with YOU! If there is pride, anger, jealousy, evil or deceit in your heart then blockage to fully and authentically love those around you each and everyday, including your Heavenly Father, will be next to impossible.
So…what steps can you take to keep love in the air? Love YOU! It takes practice, but you'll get there. Here are a few things I do and maybe you'll find them useful as well.
First and foremost, the best step is to dig into God's word and to read the truth about who you are and whose you are! This will assist in setting aside the negative emotions and lies from the present and past.
Memorize scripture and positive affirmations that resonate with you and your current circumstance. Speak them aloud and often. Words are power and bring truth to life. Even if you don't fully believe the words to be truth in the beginning, the shift will occur.
Take care of yourself in mind, body, and spirit FIRST so that you will be equipped to care for those around you. How? By eating clean, regular Visibly Fit™ exercise, incorporating daily scripture and affirmations, taking time to become recharged and renewed with a mini vacation for a weekend or a "vacation" from the day with a bubble bath or something similar.
Give the gift of time to someone in need – it might just be a friend, family member, or neighbor. Time is a precious commodity. Giving time = Love
This may sound silly, but write out a paragraph with at least ten reasons of "Why I Love Me." Or, you can record it on your smartphone and play it back as a reminder from time to time. This exercise allows you to focus on the positive character and gifts that you bring to this world in a unique fashion.
I always say, "When Mama's Happy, Everyone's Happy." And the only way for "Mama" to be happy is if she loves herself in the same way that God loves her! May you look at this Valentine's Day in a different light…full of love, gratitude, and immeasurable joy for who you are and whose you are! You are blessed!