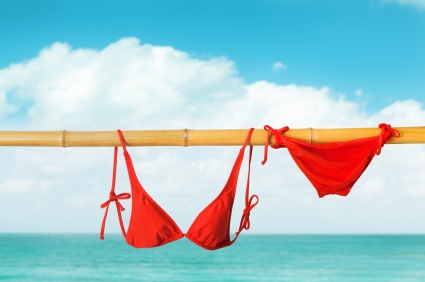 It's that time of year again when we either reacquaint ourselves with last year's swimsuit or brave the glare of dressing room lights to make friends with a new one. After all, we know summer apparel is not only about style; we have to feel good in our skimpy-wear too!
Two-piece halters, the classic one-piece, string bikinis, tankinis, boy shorts, low-rise, high-rise, even the unmistakable thong … with so many styles to choose from, swimwear possibilities appear endless. The elements that make for a perfect suit, however, are as easy as 1, 2: complimenting body types by accentuating positive features, and camouflaging areas we consider to be flaws.
With only 6 to 8 weeks before summer's debut, there's still time for you to see major physical changes. My Visibly Fit™ exercise program makes it possible to "kick it up a notch" — anywhere, anytime! — because your body acts as the only gym you need. At home, at work or in the car, start toning, shedding pounds, and gaining confidence just in time for summer.
Here's how. Using slow, controlled visualized resistance, let these exercises help tackle trouble-zone areas with no equipment needed.
Push-ups – Bare your back, chest and arms with pride by practicing each of these variations daily: wide-arm stance, standard-arm, triangle, and elevated. Challenge yourself by practicing up to 10-20 of each daily.
Plank – Face the floor parallel while holding your weight on your forearms and toes (plank position) for strengthening the lower back and tightening abdominal muscles. Hold this position as long as possible (ideally, 2 minutes). Protect the lower back by holding stomach muscles tightly.
Walking Lunges – Perfect for getting legs in athletic shape for swimsuits of all styles, be sure to keep knees and heels in alignment while lunging. A walking lunge is simply taking a step forward while bending the knee and lowering yourself until your outstretched knee barely touches the floor.
Squats – Essential for defining legs and booties. Your starting stance should be approximately shoulder width apart. Bend your knees and sit back. Make sure all weight is in the heels and that your knees do not extend beyond your toes.
Abdominal Contractions – One of the BEST abdominal exercises around, and one that is not performed on the floor, inhale deeply through the nose and exhale completely through the mouth, strongly pulling abs down and back toward the spine on exhale.
Your food intake is equally as important as your exercises, of course, so be sure to eat small, healthy meals, approximately 5-6 times daily. Think of it as grazing: you aren't eating more, you're just eating more frequently. Drop one pound in 5 days simply by cutting out 500 calories a day, and marvel as you lose 10 or more pounds before summer.
Need faster results for an approaching getaway? Take your body type into consideration to ensure your suit suits you:
Busty: If it's the Sports Illustrated look you're aiming for, triangle-top bikinis are a must. For added support in a flattering style, try the classic look of a halter-top bikini or one-piece.
Not so busty: No need to rush out for implants. Select the enhancer bra top for your triangle, halter, or tankini swimwear. Rule of thumb: if you reach up and the suit does the same, it's not for you.
Larger thighs and backside: Take advantage of sassy skirts and bloused tops that offer a more proportionate look. High-cut bottoms give the illusion of longer legs while accentuating the waist. Tip: Notice where your eyes are drawn when trying on swimsuits. Where your eyes go, so does everyone else's.
Thin, shapely legs: Ideal for most swimsuit styles, this body type can get away with the boy short.
Belly-buster: One-piece swimsuits offering tummy control panels perform wonders, and sarongs offer additional coverage with a touch of pizzazz.
Keep these tips in mind and you'll be on your way to discovering the suit that fits your personality, your body type and your comfort level as well.