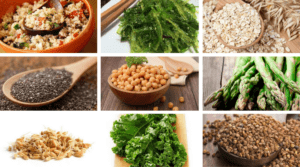 So often "green eaters" tend to struggle to find ways to incorporate protein in their diets so they opt to powders. However, nature provides MANY plant-based, protein-rich foods for your enjoyment and nutrition. Ninety percent of the population gets over and beyond the required amount of protein daily. Most men AND women only require 42-52 grams per day. Below are ten plant-based foods that pack a protein punch and a few recipes to try!
ASPARAGUS (1 CUP RAW): ABOUT 2.95G OF PROTEIN
Try this Balsamic Garlic Asparagus Recipe!
WHEAT GERM (2 TBSP): ABOUT 3.33G OF PROTEIN
Add it to your green smoothies, oatmeal, or even your favorite soup!
COOKED QUINOA (½ CUP): ABOUT 4G OF PROTEIN
Great add to your salads or as a side item!
KALE (1 CUP RAW): ABOUT 2.87G OF PROTEIN
COOKED CHICKPEAS (½ CUP): ABOUT 5.90G OF PROTEIN
Try this Ginger-Lime Kale with Squash and Chickpeas Recipe! (just omit the oil)
COOKED BUCKWHEAT (1 CUP GROATS): ABOUT 5.68G OF PROTEIN
Try this Green Pea Buckwheat Risotto Recipe! (omit oil)
BROCCOLI (1 CUP): ABOUT 2.6G OF PROTEIN
Broccoli is great raw in a salad or steamed as a side dish.
DRIED CHIA SEEDS (2 TBSP): ABOUT 3G OF PROTEIN
Add to your shakes, put on your oatmeal, or make chia pudding! YUM!
REGULAR QUICK OATS (½ C DRY OR 1 CUP COOKED): ABOUT 5.33G OF PROTEIN
Try These Pumpkin Spice Breakfast Bites!
WAKAME SEAWEED (1 CUP RAW): ABOUT 2.42G OF PROTEIN
Don't knock it until you've tried it. Seaweed is great in soups and salads! A great way to get iodine which is necessary for a healthy thyroid.