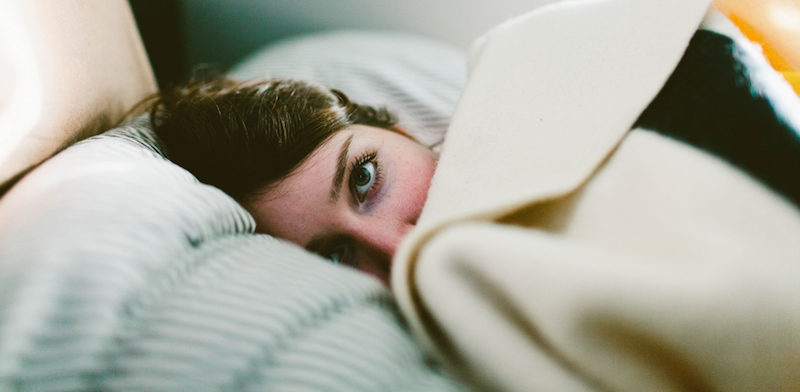 If you are like me then you have trouble getting and staying asleep. Actually, the "getting to sleep" isn't much of an issue – it's the staying asleep. It's hard to turn your mind off before bed and once you wake up in the middle of the night your mind starts racing with worries and to-do lists which makes it hard to return to your slumber.  This trouble seems to peak around the holidays as our schedules get busy and into the new year as we start making goals and lists of things to accomplish.
Can I give you something right now?  Can I give you permission to minimalize your life?  I'm not saying you need to move to a studio apartment with no furniture.  I just want to give you some tips that I am implementing that are helping me get to sleep and stay asleep.  Can I give you that?
Here are simple ways I am minimalizing my evenings and setting the tone for a restful night of sleep.
I tidied up my living space by getting rid of items I don't use on a daily basis.  Every item in your sight is a stimulator.  If you don't use it daily put it away and only pull It out when you need it.
I dim the lights at 7 p.m.  I'm still quite active in the evening but by dimming the lights it tells my brain that it's time to slow down and it prepares me for sleep.
I got rid of all the blue light in my home.  Florescent lights stimulate the brain.  I turn my phone to the night dimmer at 7 p.m. too!
I don't eat anything after 6 p.m.   On busy days, this takes some meal planning but if your body is digesting then it's not resting.
I journal my day and write down my top 3 things to accomplish the next day.  Once I write down my thoughts and write down my to-do list then I no longer have to keep it in my head.
I ask God to help me not to ruminate on negative thoughts.  That's a fancy way of saying I give my worry to God and ask him to fill my mind with peace for a restful night's sleep.
When you sleep your body regenerates.  It prepares you for the next day.  If you aren't getting the rest you need you will feel irritable and overwhelmed, you won't have the energy to get through the day so you will fill up on false stimuli like caffeine which also affects your sleep.  Eventually, several nights of this leads to poor health such as high blood pressure, chronic fatigue, inflammation, and anxiety.
I want to challenge you to take the list above and do it for a week.  Take the time to reset your sleep cycle now.  Start the New Year off right!
Your Partner in Health,
Wendie