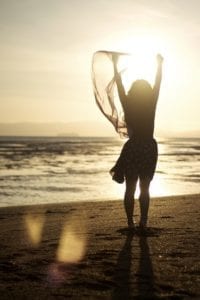 I was thinking last week about attitude.  Why is it that some people have great attitudes and always see the silver lining while others are easily bogged down by negative thoughts?  Why is it that some people have bad attitudes about everything while others always seem to start their day with a cheery disposition?
It's easy to blame attitude on circumstance.  Good life, good attitude.  Bad life, bad attitude.   But it's not that simple.
I have many clients that have what would seem to be a very rough life to the average person.  They don't have just one of the following issues-they have all of them: health problems, family problems, career problems, relationship problems.  However, they also have a great attitude.  But how?  How can someone face so many things that seem impossible yet still have a great attitude?  It's something I've learned the answer to.
Today, I want to share with YOU three secrets to having a good attitude in bad circumstances.  They fall into three categories: mind, body and spirit.
MIND – Don't worry, I am not going to say mind over matter.  While I do know that the mind is a powerful thing, I also know that you cannot rely on your mind alone.  Rather than try to control your environment with the power of your mind I would encourage you to know your mind.  When do you tend to have the least control over negative thoughts?  If you are like most people, it is when you are over stressed, under nourished or overly exhausted.  So, use the power of your mind to create a schedule that will prevent you from being over stressed, will allow you to properly nourish your body, and get enough sleep.  Also, be sure not to make decisions when you know your mind is at it's weakest.  This includes forming negative opinions about your circumstances.
BODY – How you care for your body plays a huge role in your attitude.  Exercising regularly reduces stress and increases positive endorphins, which give you a natural sense of happiness and well-being.  Putting the right foods in your body matters too.  Eating foods high in Vitamin B-6, Omega-3 Fatty Acids, and Fiber will stabilize your serotonin levels and stabilize blood sugar.  Serotonin and your blood sugar play a huge role in preventing depression and negative thoughts. A plant-based diet can elevate your attitude, too. The phytochemicals, nourishing nutrients, vitamins, and minerals all work together to balance out hormones and flushing negative toxins and inflammation in the body. Eating this way will encourage a much happier and positive way in which you see your life.
SPIRIT – We all have a secret power for maintaining a good attitude.  It's called faith.  It is our faith in Jesus that gives us an everlasting hope.  When we keep our eyes on God and how much He loves us, then we stay focused on the fact that this life will never be perfect. But, one day we will be in Heaven with Him where everything will indeed be perfect. Knowing this helps to ease the attitude in which we chose to make daily. Focusing on God puts things in perspective and helps us have a more positive attitude about our time here on earth.
So, the next time you find yourself feeling like a Negative Nelly or a Negative Ned ask yourself, am I taking care of myself mind, body and spirit?
What's one way that you "self check" your attitude? As always – I love to hear from YOU! 🙂 Respond in the comments.