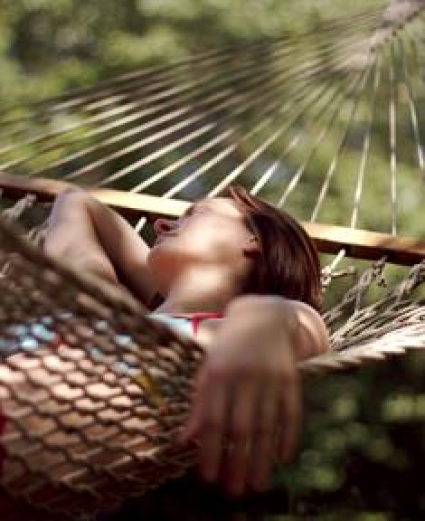 In this fast-paced world we live in, very seldom does one take the time to get the proper form of rest. Even during our "resting" time, it seems to be filled and completely occupied with work, activities and events with family and friends. It's great to hang with family and friends, but that doesn't always lend itself to true rest. At least not with my family and friends as we're the on-the-go kind of bunch.
The definition of rest is to cease work or movement in order to relax, refresh oneself, or recover strength. Even God demonstrates how important it is to rest. After creating for six days straight, He took the seventh day to rest. Not that God needs to be refreshed or to recover strength, but he deliberately took rest to observe His work of art and experience the beauty and peace that rest brings. He also did this to teach us to rest through His leading actions as He knows that rest is best for mankind. We operate better with a day devoted to Him and a day to recover from the rips and tears that we put on our muscles, our minds, our emotions, and our relationships.
As you are creating your physique to be in its best health, rest is the key ingredient to be able to observe all your hard work and inhale the peace knowing that your body is mending and healing itself to become even stronger and more equipped. As you workout, your muscle fibers actually tear and rip. That may not sound very appealing, but it's actually how you become stronger…that is if you allow your muscles the rest they require to heal and mend. Feeling sore the next day or two after a workout is normal, but that is why it's best to do my basic Visibly Fit™ 7X11 daily with different tension levels and then focus on a different body part on various days. This will allow certain body parts to rest and become restored. If rest does not occur then the reshaping of your body can not fully take place. Here are 7 recovery tips that will reshape your body in no time.
1. Take Breaks. Allow at least 24 hours between working the same body part to its maximum and give yourself one day off from all workouts every week.
2. Fuel your muscles. The proper nutrition is key in offsetting muscle damage and it improves your ability to consistently train. Eating the right ratio of carbs and proteins within 30 minutes of a workout is very important. It should be 4:1 ratio (four grams of carbs for every one gram of protein). A protein drink along with fruit is ideal.
3. Sleep. This is one of the biggest issues…most people are sleep deprived. When this happens, your hormones get out of whack which can cause cravings (usually for sugar) for quick energy. When you're sleeping is when your body is hard at work to repair your muscles. Studies show that people that get less than eight hours of sleep tend to carry more body fat than those that got in their 8 hour quota.
4. Shhhh….Listen. Listen to your body!!! It will tell you what it requires for best health. Don't get stubborn and think you know better than your body. Ignoring muscle soreness can lead to injury.
5. Ache no more. Use the proper tools to work out the aches, pains, and kinks. Use a foam roller, tennis ball, or get your butt into a masseuse. Chiropractic adjustments and acupuncture are great tools as well. They all work well together and will help to get your body fit fast and working at its peak condition.
6. Stretch. I know, you hear it all the time, but stretching is important to lengthen the muscle that has been worked. If you don't stretch you will lose your flexibility which will affect your ability to work your muscles to their fullest potential.
7. Set your alarm. Sometimes you forget to do any or all of the above tips. Set an alarm to remind yourself to eat, stretch, make an appointment for a massage, and even to go to bed. I'm a night owl, so I get it. I have to force myself into bed at times, but I know it's exactly what my body craves. REST!!!
As you take these recovery tips seriously and put them into action, you WILL see faster results for all your hard work.