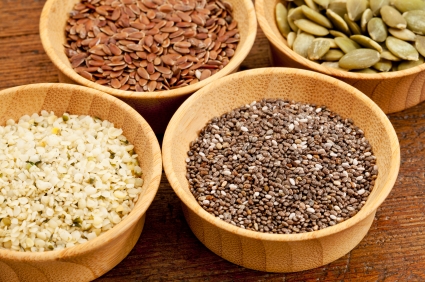 How can something as tiny as a seed impact our health and brain function?
According to TV's Dr. Oz, the right nuts and seeds form what he calls "Power Plants of Nutrition."
Tasty, fun to eat, and filling as a light snack, sunflowers, sesame, hemp, pumpkin, poppy, chia and flax seeds should be lining the shelves of every American pantry.
"Why is that," you might ask?
For starters, seeds are naturally high in fiber, vitamin E, and the monounsaturated fats that benefit heart health. Seeds are great sources of protein, minerals, zinc and other necessary nutrients that offer also to assist with weight loss and prevent heart disease.
Numerous studies have shown that different types of seeds and nuts can actually prevent weight gain, the development of heart disease, and the accumulation of LDL cholesterol. Seeds, therefore, are necessary and essential, yet all too often completely overlooked.
The following is a sampling of raw seeds to amp up your health and your metabolism.
1. Hemp Seeds
Hemp seeds (no, they're not intoxicating) are highly nutritional, and a number of studies indicate they may benefit persons with heart disease, cancer, and/or inflammation-based diseases (Alzheimer's, Parkinson's.) All 20 amino acids are found in hemp, including the 9 essential amino acids that our bodies don't produce and we must get from a food source. You might want to consider hemp protein, as it's an easily digestible option for your protein drinks.
2. Sunflower Seeds
Promoting healthy digestion and fiber intake, sunflower seeds assist in weight loss as well. They are a good source of protein, essential minerals, such as calcium and iron; and essential vitamins, such as vitamin E. But, steer clear of this seed if you have issues with your large intestine as with Diverticulosis.
3. Sesame seeds
Tiny seeds that pack a punch—sesame seeds may lower blood pressure, and help prevent Arthritis, asthma, migraine headaches, menopause, osteoporosis and PMS. This little seed is known for it's incredible amounts of calcium and magnesium. No need for a Cal-Mag supplement if you're eating your sesame seeds!
4. Pumpkin Seeds
May stabilize cholesterol levels and fight cancer. They are very rich in protein, providing about 12 grams per one cup serving. They also have magnesium, zinc, and iron. BUT, keep in mind that these little seeds are high in calories and fat. Just one cup equals 300 calories, so eat sparingly.
5. Chia seeds
A member of the mint family, Chia seeds are known to stabilize blood sugar, lower cardiovascular disease, and increse weight loss. They are chalked full of fiber, Omega-3 and Omega-6 essential fatty acids, B vitamins, and contain protein and calcium.
I use different seeds on my salads, in my smoothies, on my oatmeal, and sometimes I just slam a small handful. Think of seeds and nuts as a condiment and don't get carried away with eating several handfuls throughout your day, especially when it comes to sunflower and pumpkin seeds. Too much of anything (even if it's considered good) can be a bad thing.