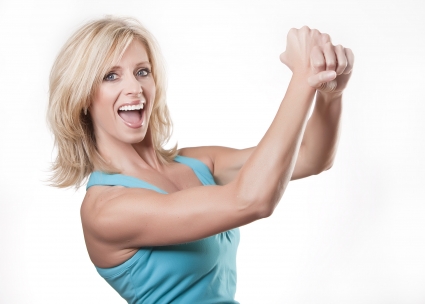 Winter is over. It's time to put away the sweaters, jackets, parkas, and scarves. Peel off the layers and what to you see? Do you have arms that continue to "wave" seconds after you've waved hello or goodbye to someone? Does your child tell you to hold out your arms so they can get a little shade from the sun? Are you embarrassed to wear sleeveless shirts? All kidding aside…if you're feeling this way, you aren't alone. The average person that is 20 pounds or more overweight typically has flabby arms. But, flabby arms do not look good or feel good in sleeveless tops. So, what can you do to get your arms to go from flabby to fabulous? First, it all starts with eating healthy and consuming fewer calories daily to rid yourself of the extra fat. But, at the same time it's important to build muscle by doing the proper exercises. Here are four Visibly Fit™ moves that will get your arms ready for all those adorable outfits this summer.
1. The Push-up: It's a classic and a standard for a great chest, shoulders, and arms. Many women tend to shy away from them because they aren't strong enough in the beginning to perform them correctly. That's okay. Start where you are and work your way to a floor push-up. Practice push-ups against the wall first and once you master those then take the push-up to your kitchen counter or a desk. Once you've accomplished the push-up at that level then take it to the floor on your knees. Then you can take it to the standard push-up on your toes. Consistency and practice is the main key ingredient to build strength and stamina to master flawless push-ups.
2. Bicep curls: This is an awesome move for the front of the upper arms. If you don't have weights do not fret, you don't need weights to do bicep curls. Do them the Visibly Fit™ way by visualizing the weight in your hand and doing a slow-controlled tension movement while performing your curls. These type of bicep curl doesn't put stress on joints, tendons, or ligaments. Try it – you'll be amazed and how much you can actually "lift." Perform 10-12 with both arms using as much tension and resistance as possible. When using maximum tension…you will shake!
3. Dips: When I Dip – You Dip – We Dip! Okay, so those are words to a song, but I like the thought of all of us doing dips! Dips are great for the triceps (back of the arms). These are key in building up and toning that area of the arm. Start off by using the side of the bathtub, a chair, edge of table, or anything else that is sturdy to support your weight. Place arms in a close to locked position behind you and close to your hips – fingers facing toward you. Place legs out in front of your either straight or bent. Whichever feels best from your current athletic level. Slowly (key word) lower your body as far as you can keeping your elbows tucked in towards one another and your back as close to the chair as possible, then push back up to the starting position slowly and using resistance throughout the entire exercise.
4. Deltoid Raise: These help to get sexy shoulders – all part of having sexy arms! Stand with your feet side by side, arms in front of you with elbows bent and clenched fists in front of your chest. Against maximum tension, slowly raise your arms outward and upward until your elbows are almost straight. A great move for those of you that may have rotator cuff issues. Just remember to only do what you can and use a tension level that is only slightly uncomfortable – not painful.
These four exercises will get you started in the right direction so you become strong and confident in your sleeveless sundresses and shirts. Remember that cardiovascular exercise will be important too when you're looking to release unwanted fat and get people commenting on your muscular, yet sexy Visibly Fit™ arms this summer.