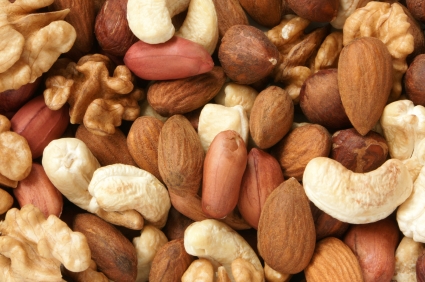 I'm a little nuts when in comes to eating the right kind of nuts. All too often my clients will write down in their Visibly Fit™ nutritional journal that they ate nuts during the day. I soon find out that their idea of healthy nuts consisted of macadamia nuts (which aren't bad, just higher in calories and fat) or worse, honey-roasted almonds, peanuts or pecans. Nuts can be very beneficial in your daily diet if you eat the right ones and if they are raw. When they are coated in honey, sugar, and salt then they become less healthy. For instance, honey-roasted almonds have 100 additional calories per ounce than without. Most raw nuts range from 150-210 calories per ounce. Studies show that people who are frequent tree nut eaters usually weigh less than people who aren't, in spite of the high calories of nuts.
Here's a nutritional breakdown of some of the most popular nuts available. I hope when you choose to go nutty, then you'll go nuts with the right one!
1. ALMONDS: My all-time favorite nut! I eat 12-15 of them daily, usually as part of my mid-day snack. Just one small ounce of these nuts offer 12 percent of your daily allowance of protein, 35 percent of your vitamin E allowance, the same amount of calcium that's in 1/4 cup of milk, and they are loaded with minerals and healthy fiber. To top it off, almonds offer a "filling" mechanism in them to keep you feeling full and satisfied and they are considered less fatty (although it's monounsaturated fat – ie. good fat and has no cholesterol) of all the nuts! I always keep some in the car as a grab and go snack when I'm on the road.
2. PEANUTS: Probably one of the most popular nuts as they are used often in cooking and they seem to be the nut of choice when watching many sports. Guess it's a bit of a sport nut! Yes, pun intended! The peanut is also a nut that many people are allergic to, so much so, that schools have a "peanut-free" table in the cafeteria for the kids to sit that have this allergy. This nut is technically a legume…a little trivia for you! Even though this nut is a great energy source, has an excellent source of resveratrol (antioxidant that's great for fighting cancer and heart disease), vitamin E, B-complex groups of vitamins and many minerals, it's susceptible to mold due to the way it grows. This is toxic to the body and roasting the nuts only reduces the toxins, but doesn't eliminate.
3. CASHEWS: Like other nuts, cashews are a great source of fiber, vitamins, and minerals. Cashews are said to offer the best source (of all the nuts) of minerals such as Selenium, Copper, and Zinc. These particular minerals are all co-factors for vital enzymes for the body. Native to South America, cashews are actually seeds that are found growing on the end of a cashew apple. They are high in monounsaturated fats, but no higher than almonds. In fact, cashews may be a tad less. BUT…they don't fill you up the way almonds do. Yes, I'm promoting my favorite nut. I'm allowed – It's my article!
4. MACADAMIA: Last time I had a Macadamia nut I was in Kauai. This nut is notorious in Hawaii and they grow 90 percent of the world's macadamia nuts there. It's no wonder that it's the token gift item to give once one returns from the island. They are one of the highest in calories and fat. Very tasty and even sweet. Again, like the other nuts, the macadamia is high in fiber (offering about 10 percent of your daily allowance), minerals, phytonutrients and protein. But, nut popper beware..these bad boys have 962 calories in just one cup.
5. PECANS: My best memory of pecans were tucked inside my Aunt Thelma's award-winning (at least in our family) pecan pie! Haven't had it in years, but when I think pecans…I think pie! The consumption of pecans on their own and without the sugar, is ideal. This nut is known for it's antioxidant properties. They contain over 19 vitamins and minerals and are a good source of fiber. It's been recorded that pecans play a vital role in protecting the nervous system. Keep in mind, though, that an ounce of pecans is close to 200 calories.
6. BRAZIL: Part of a staple diet to the Amazonians, this nut is another one that is high in fat. Yes, still good fats! Brazil nuts are known as the highest natural source of the trace mineral, selenium. Selenium is important as it stimulates the production of antibodies, helps with enzyme function, and works with antioxidants to protect the body from free radicals. Important: You only need a small amount as you don't want to be subject to selenium toxicity.
7. WALNUTS: The nut that looks like a brain, in my opinion, is actually good for it too! Walnuts offer the highest level of ALA omega 3 fatty acids. These fatty acids are highly concentrated in the brain and are important for brain memory and performance. Your body can not produce these essential fatty acids on its own and they are necessary for human health. Fat and calorie content are similar to the pecan and peanut. Not as lean as the almond, but not as fatty as the macadamia. Walnuts are great on salads and I use them often on my oatmeal in the morning.
Instead of just adding nuts to your diet, consider replacing certain foods that are high in saturated fats with nuts. They will offer great health benefits and keep you feeling full longer. So, go nuts!