Many people live to eat instead of eat to live! Do you know which person you are? If you can't tell me exactly what you ate today then you might be living to eat. If you can't pass up a bowl of M&Ms and you don't recall eating them then you might be living to eat. Almost sounds like a new Jeff Foxworthy skit—"You might be living to eat if…" Most people that live to eat are mindless eaters. These "mindless nibble moments" can negate any of your positive efforts of eating healthy throughout the rest of your day.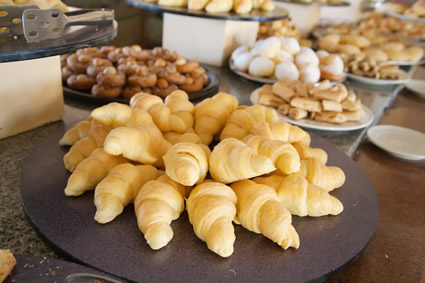 Not only is it important to be mindful of what you eat due to caloric intake, but also for health safety. This might gross you out, but have you ever thought of the other people that grabbed those M&Ms out of the bowl before you? Are you certain that they had clean hands? So, not only are you taking in needless calories, but you are taking a risk of getting ill due to possible bacteria contamination.
Bacterial contamination of foods can also become present by the way you prepare and store your foods. Most of the "cleanliness" rules are obvious, but are often over-looked due to hurried behavior. If you take the time to eat to live mindfully and prepare your foods properly then you will be on track for living a healthier life.
Did you know that being mindful of preparing foods can even affect the quality of vitamins and minerals in your fruits and vegetables! Natural enzymes are found in fruits and vegetables that synthesis and degrade vitamins. Once fruits and vegetables are picked, their vitamins began to be degraded. By refrigerating most fruits and vegetables, the process of degradation can be slowed down, helping to preserve as much of the valuable nutrients as possible. Some vitamins are destroyed by the presence of oxygen, so keep cut fruits and vegetables in airtight containers. Protect water-soluble vitamins (Vitamins B and C) that can be found in most produce by washing before cutting instead of after and by microwaving or steaming when preparing. These are simple ideas, but are important to implement for maximizing the nutritional benefits of fruits and vegetables.
Your body can better absorb the valuable nutrients of foods by eating certain combinations of them together. For example, eating foods rich in vitamin C can help enhance absorption of foods rich in iron when eaten in the same meal. A strawberry spinach salad is a great option (as well as one of my favorites) to maximize iron absorption! Having a food rich in vitamin D (fortified dairy products and cereals) can help absorb calcium from foods when eaten in the same meal. Fortified dairy usually contains both calcium and vitamin D for this purpose. Calcium can be found in small quantities in fruits and vegetables such as spinach, tofu, oranges, broccoli and bok choy.
So, for the smartest and most beneficial ways to get the most out of your foods then follow my principles and you'll be healthier along your wellness journey.