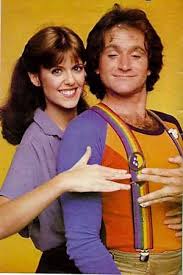 I grew up watching Mork and Mindy on the couch while "sitting" on my head to imitate Robin William's character from the planet, Ork. I even owned and wore my very own pair of rainbow colored suspenders with Mork's photo on them and greeted people with the Nanu Nanu Ork-style handshake. There was something so innocent, silly, and lovable about that character. Robin Williams continued to morph into other incredible characters along his journey as an actor in movies such as; Dead Poet's Society, Patch Adams, Good Will Hunting, Good Morning Vietnam, Mrs. Doubtfire, Disney's – Aladdin and the list goes on and on. He had a way of not only making you laugh like you've never laughed before, but also drawing you in close to his character and pulling your hearts strings just enough to cause you to cry and weep uncontrollably.
The shock of Robin's suicide, at the age of 63, hits emotional triggers in us all…even those that have never met him. His death is a reminder that depression is not only a struggle for the famous and wealthy people in this world, depression is real and it's common. It's often masked by smiles, laughs, and addictions (drugs, alcohol, pornography, sex, gambling, shopping, food, etc).
Depression is defined as:  a mental state characterized by a pessimistic sense of inadequacy and a despondent lack of activity. 
The definition alone makes me depressed. Well, not really…but the thought of someone not feeling adequate and lacking the luster of life makes me sad for them.
I have spoken on depression quite often and can relate to the depths of darkness even at one time in my own life, although thankfully it was a short time. Nonetheless, it's a place where no one wants to be, but they don't exactly know how to get out. It's a place where shame, guilt, anger, resentment, bitterness, and lack of hope thrive. The darkness of depression snuffs out the light. It can last a moment, hours, days, weeks, months, or even a lifetime. It all depends on the power you give it and the help you choose or choose not to receive. While it is indeed an illness, it can be overcome!
Depression can linger until the root cause is exposed. There can be a number of different causes for depression such as suppressed anger, guilt and shame, biochemical imbalance, and/or continuing a lifestyle that is contrary to God's purpose for you.
Here are at least 5 ways that can assist in overcoming depression.
The first way to lift the dark cloud of depression – Acknowledge it – Get out of denial! When we acknowledge depression and understand the root cause then the depression has a better chance of being lifted. IF you discover that the root cause is due to something within your sinful nature that hasn't been dealt with then change your mindset, change your ways (repent). Self examine and determine for yourself.
Help others! When you get out of the "woe is me" mindset – stepping outside of your feelings and situation by helping others, then the depression is lifted as well. You start to feel better about yourself.
Exercise! When you move your body then positive endorphins (happy hormones) flow throughout the body. Depression then dissipates. It's proven and it's the best all-natural "Prozac" around.
Eat clean and healthy! You are what you eat. Want to feel like crap – eat crap. Want to feel healthy and alive – eat live foods such as vegetables and fruits. God knows what he's doing…. eat what He provided not what man has made. The more greens you can eat…the better!
Get medical treatment! I am not a big fan of medication, but if you need to take something for a short while to get you over a hump, then I would much rather you do that than take your life. Seek counsel as your treatment as well. A pastor, coach or counselor can assist you to see things in a new light and help direct your steps into a more hopeful, positive direction. But remember…God is the Ultimate Counselor so always seek his wisdom and strength first.
I believe Robin Williams has left us with the legacy of laughter, but more importantly the awareness and severity of depression and addiction. People struggle with this illness all the time, so I'm not putting Robin's death and situation above anyone else. All I'm saying is that you can get help and you can be healed. Here are a few of my favorite Bible scriptures that helped me overcome my depression…and continue to do so. May they give you hope and healing as well.
Deuteronomy 31:8 "… It is the LORD who goes before you. He will be with you; he will not leave you or forsake you. Do not fear or be dismayed."
Jeremiah 29:11 For I know the plans I have for you, declares the LORD, plans for welfare and not for evil, to give you a future and a hope.
John 16:33 I have said these things to you, that in me you may have peace. In the world you will have tribulation. But take heart; I have overcome the world. 
Psalms 34:17 When the righteous cry for help, the LORD hears and delivers them out of all their troubles.