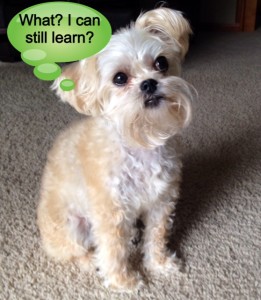 Do you think you're too old to begin incorporating a healthy eating plan and exercise into your already established ways of living? Do you think, "What's the point…it's too late?" or, "I'm already set in my ways and won't be able to change" or even, "I don't want to go through the "hassle" and discipline of learning a new way of living."
If you've ever talked to yourself in that fashion, I can relate. I have a four-pound, eight-year old Brussels-Griffon/Poodle mix (modeling in the picture above) that I love dearly, but I made the mistake of letting her rule the roost, so to speak, for many years. Now, I'm paying the price and so is she. She barks obnoxiously every time the UPS man drives by or the doorbell rings, she has accidents in the house on occasion, and has anxiety issues anytime I leave her sight.
We are both going through the pain-staking actions of learning new disciplines, which can seem even more painful later in life. I'm using a command collar on her that is safe, but effective. If I would have trained her as a puppy, then we would both be living more peacefully and have a healthier relationship.
BUT, THE GOOD NEWS….
It's never too late to learn!!! She is making great strides and so am I in the area of patience.  I share this about my dog because even though I love her I didn't love her, or myself for that matter, enough to discipline her early on. Discipline (when used correctly) is an act of love…it's not punishment out of hate.
Have you ever looked at discipline as punishment instead of love? I would imagine that most of you reading this have experienced that emotional feeling around the "D" word in the past. I want to encourage you to take another look at the word discipline. Ask yourself if you're happy with the reflection you see in the mirror. That reflection is showing you the results you've received over the years of not having discipline in your life. It's now time to take a look in the mirror again and make a decision to love yourself enough to teach that "old dog" reflecting back new ways of taking care of your overall well being.
In Hebrews 12:11 in the Bible it reads,
"For the moment all discipline seems painful rather than pleasant,
but later it yields the peaceful fruit of righteousness to those who have been trained by it."
And in Proverbs 3:11-12 it reads,
"My son, do not despise the Lord's discipline or be weary of his reproof,
for the Lord reproves him whom he loves, as a father the son in whom he delights."
So, I encourage you to delight in yourself as the Lord delights in you. By learning and mastering new disciplines that will enhance your life, thus propelling you into your calling and purpose. If you aren't disciplined, then there is a slim chance that you'll ever be promoted to greater things in life.
Here are three things that you can do today to ignite new healthy disciplines, which will then become habits.
Set your day up for success! Plan and write out the top 3 things that you will accomplish today that will take you closer to your health goal. Then…do them!
Get an accountability partner that will speak truth. Who's in charge of your "command collar?" In other words, which person in your life is directing you, guiding you, challenging you, committed to you and most importantly keeping you accountable? Find that person today!
Love yourself! Yes, that sounds so easy, doesn't it? Loving yourself takes practice, though. So start by looking at yourself in the mirror and give thanks to God for all that you are and for the strength, wisdom, and guidance that He will provide as you take small, positive steps daily to reach your goals. And give yourself loving grace when you fall short. You will…we all do. The key is to get back on track immediately. That's where #2 becomes an important piece of the equation.