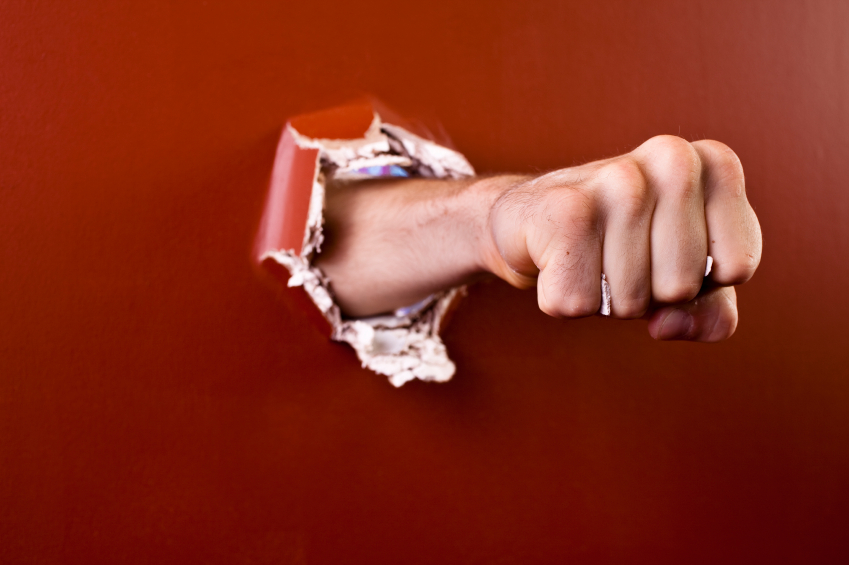 Everyone will hit a plateau at one time or another while on a weight loss journey.   The body tends to hit the wall on catching up with the consumption and expenditure of calories. And then it makes you want to hit a wall…literally! When you are in sync with eating clean and exercising – you tend to release weight, and feel great. And when those cheat days or moments appear, weight gain or stagnation is to be expected. But, what about the times when you are strict with your eating plan and exercise routine on a consistent basis – and you've hit one of those dreaded plateaus?
It's hard to keep your motivation up when you don't see progress. Even maintaining weight has to be monitored to keep healthy and fit. And…plateaus don't take holidays. They come at will and at random. SO…What's the best way to bust through those tall stone plateau walls and into success?
A recent study of the number one killer of adults in the USA, heart disease, revealed that a positive outlook means living longer, stronger, and younger. I would like to add "living happier". Positive thinking and regular physical activity are really important for your life inside and out.
But, how can you have a positive attitude towards a plateau? Here are a few simple steps to help get a leg up on overcoming the stagnation:
Rise and shine. Before you climb or crawl out of bed, be grateful. Be thankful for your blessings and good things that you have in your life. Even if all you have is a roof over your head, and hair on your head, give thanks for what you have been given BEFORE you get up. In fact, being grateful for even the "tough stuff" in life will better equip you to get through them with a new and conquering attitude.
After a healthy breakfast, get some paper and a pen and jot down some short term goals. Maybe you need to switch up your exercise routine, perhaps you need to push yourself just a little more to walk or run that extra half mile. Could it be that you need to give yourself permission to rest a day from exercising? Maybe you just need to give yourself permission to change your target goal weight.
Change your reaction to what goes wrong. It will change your overall response to what is actually going right. Complaining is contagious and doesn't fit well on anyone. It's true what they say, that misery loves company. Don't drag your friendly personality down with negative thoughts or responses when you could use the opportunity to be an optimist, even to yourself!
Decide to think good thoughts. Here's one verse that outlines it all: "Finally, brothers and sisters, whatever is true, whatever is noble, whatever is right, whatever is pure, whatever is lovely, whatever is admirable–if anything is excellent or praiseworthy–think about such things." Philippians 4:8. When I think about the "whatevers" in our daily lives, our challenges, future and hope there is only one good common dominator – Jesus. Jesus CAN help us do anything! He specializes in the tough stuff.
HALT your negatives. When negativity hits you cold and you run to the nearest refrigerator to grab the last slice of key lime pie, check your mood first. Consider if you are Hungry, Angry, Lonely, Bored, Tired or all of the above? It's important to HALT those negative feelings and recognize that you could be headed for or in a bad emotional place that opens the door to negative feelings, and those dark feelings won't support your long term health goals. Once you call out those feelings on the carpet, you know what you are wrestling with. Replace your negative thought and/or action with something positive like 60 seconds of jumping jacks or stating an affirmation over and over for 60 seconds. It will sink in. Words and actions change our mental wiring for better habits.
Replay a good memory. "A mind is a beautiful thing to waste," goes the saying and your mind is constantly reviewing the tapes. Half the battle here is recognizing the problem and doing something about it. Most times…you have options, but might often choose the easiest way to get out of a jam. You may also tend to be incredibly harder on yourself than you would ever think about being to someone else. Replay a time in your mind that was a very positive time for you. A time when you lost weight and it surprised you. Or how about that 5K race you signed up for and actually completed. Or you finally fit into that new dress hanging in your closet. Or maybe..just maybe it was the time when you were consistent with a healthy behavior and others noticed. Positive motivation is fueled by small successes, but acts like cumulative forward motion. Conjuring up good memories triggers your optimistic perspective with the glass-half-full view. Listen to your favorite song and remember the good times. Hit repeat…again and again!
Talk about it with a friend who believes in you. Who you surround yourself with makes a big difference. People love to share struggles, but often shame and guilt holds them back by thinking that they will be judged for their behavior. Having a good accountability partner that you can be open and honest with, sharing encouragement and your goals will be a lifeline in those times when you want to give up and cater to your every whim. Reach out and find out who your TRUE friends are. Who knows, you could be helping them to in the same journey! One thing is for sure, people need people…but hurt people hurt people. Choose wisely.
Putting these simple steps into practice you will soon be looking at all your goals with a more wholesome perspective. You can do this, my friend – I know this because of my life verse – "We can do all things THROUGH Christ, who gives us strength. " (Phil.4:13) We are better together and can do more than we think we can. So give yourself another chance to be positive, take hold of bigger goals, more short-term goals and more forward motion busting through those pesky plateaus. Plateaus don't have to derail your goals, nor cause you to stumble. With the help of positive thinking they will be eating your dust in no time! If you're looking for a fantastic group to join and want a simple challenge, join me and my awesome Walk It Off Now group at www.walkitoffnow.com. I'll see you there!