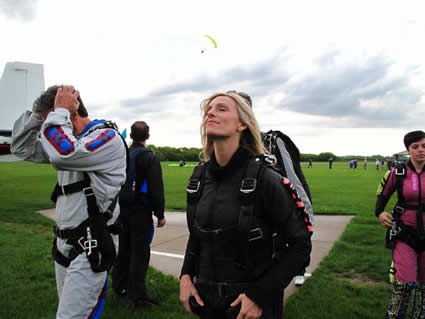 This scripture raced through my mind as I recently cashed in a gift voucher I received to go skydiving. Many people might think that skydiving is only for adrenaline junkies or maybe for someone who doesn't really value their life. But, for me, it's one of those experiences that I've had on my "bucket list" for years. I saw skydiving as more of an illustration of taking a literal leap of faith to reflect all the faith leaps I've taken throughout my years. As I reflect on just a few in my life, such as natural child birth, starting my own business and a non-profit, or even reaching out to build certain relationships and partnerships, I notice that they are very different in appearance but similar in the faith behind each one. My skydiving experience was no different. My hope was to land safely, but I allowed faith to see the outcome.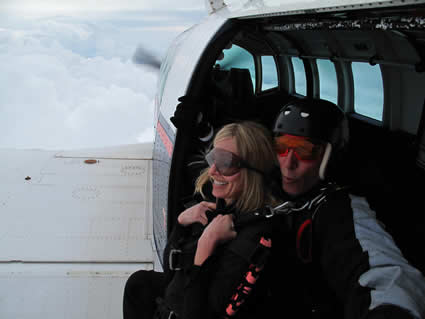 As the small plane climbed and reached 13,000 feet, I was getting very excited about the jump, but faith had to push me to the edge of the open doorway. I was the last of the six jumpers to make my leap. As I watched others go before me, each with a loud scream, I wondered for a moment if I had made the right decision. But then I remembered why I was making the jump and my mind made a shift… from fear to faith! Instantly, I was at peace and the fear departed completely! I flipped out of the plane doing a somersault, feeling a bit out of control as I was free-falling at a speed of 120 miles per hour. I continued at this speed for 60 seconds, although it seemed like minutes. The wind hurled by me sounding like a loud freight train. As exhilarating as it was, I was ready for peace and a chance to enjoy the views without my hair slapping in my face.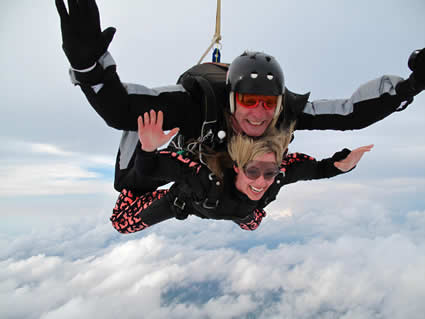 All of a sudden a cord was pulled and the forceful wind and noise came to a halt—everything was now peaceful and serene. So, who pulled the cord? Wasn't me. I actually forgot I had a tandem partner that brought me out of the free-fall and into a place where I could take time to enjoy the views and be playful. It was so freeing to dance with the parachute; circling and gliding! We got so wrapped up in the beauty and fun that I had to laugh as we safely landed in a muddy field one mile away from our landing zone. All the other jumpers before me landed right on queue. I'd like to think that my landing reflected the "outside of the box", adventurous thinking and attitude that I live out!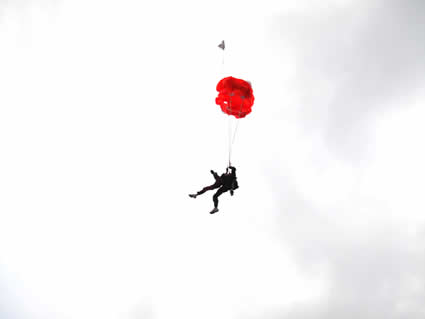 How many times have you felt alone as you jumped into uncertainty? Feeling frantic and chaotic when seeking peace? When falling fast, it's sometimes hard to remember that you're never alone. God's got your back even when you forget you are on a tandem jump! I believe that we all have a "gift voucher" to make a jump of our own. Whether it's in a relationship, a health decision and goal or a business venture, don't allow yourself to just sit on the edge of the plane with your feet dangling—cash in on your leap of faith! When you do, you'll experience a unique adventure that will take you to even greater heights for greater jumps! Enjoy the journey and remember you're never alone, no matter what stage of the adventure.