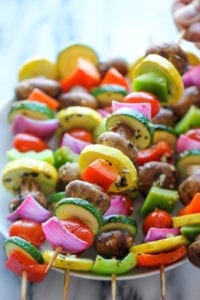 It's that time of year when we gather together to enjoy the gorgeous weather, friendships, family, outdoor sports and awesome food…BBQ-style.
While BBQs are a ton of fun, beets usually aren't on the menu, are they? It's usually brats, burgers, and beer as well as all the other unhealthy "B"BQ food and drinks that go along with it, like baked beans and bacon.
I would like to encourage a new kind of BBQ this summer. A plant-based one.  I know, your eyes probably just about popped out of your head as you read that. YES…A clean, plant-based BBQ.
You might be wondering – Is that possible? AND is that even fun?
The answer – YES to both!
It's time to look at your BBQ in a new way – a healthy way! You know, a way that will fuel your body best while still experiencing grillin' and chillin'. Trust me, it's doable and incredibly tasty. I challenge you this summer to give it a whirl.
Here are 10 tips for having a healthy BBQ – plant-based style!
#1 Have a "burger" but without the meat. You will be amazed at how a grilled portobello mushroom makes a fabulous meat replacement. Or make your own veggie burger and grill it to get the same smoky flavor. Add the lettuce, tomato, and onion and you've got yourself a burger.
#2 Chop up different kinds of vegetables from asparagus, zucchini, yellow squash, mushrooms, cherry tomatoes, beets, sweet potatoes, Brussels sprouts and onion and toss in ½ tsp. of quality olive oil and add your favorite sodium-free spices. Place on a sheet of foil and grill – turning often.
#3 Grill organic corn on the cob.
#4 Grill a veggie pizza.
#5 Artichokes are fun on the grill, too.
#6 You could have vegetable kabobs and allow everyone to make their own with their favorite vegetables. Get creative. You can even add fruit like pineapple or peaches.
#7 Make a mixed bean side dish.
#8 Drink well – make different flavored infused fruit and vegetable waters. Great combinations are raspberry and strawberry, cucumber and mint, lemon and lime and even peach and blueberry. They not only taste great, but they look beautiful on display at your BBQ party.
#9 Don't give in to others words of peer pressure saying "you must have meat for your protein." That's an uneducated comment. You get all the protein you need from eating a plant-based diet. Did you know that 100 calories of broccoli has 11.2 grams of protein and 100 calories of sirloin steak only has 5.4 grams? That little tidbit of information puts things in perspective.
#10 Stay active at your BBQ. Plan lots of activity, games, and running around fun. Be a kid again!
#11 BONUS: Dessert – yes, you can have it. Make it with mixed berries! There are so many ways to share the goodness of berries and it will take care of that "sweet tooth" craving after your meal. Or what's even better? Watermelon!!! I mean, who doesn't love watermelon? Even the seeds bring their own fun for seed-spitting contests. 🙂
Hope this gives you a few ideas for a plant-based BBQ to host this summer. Have fun while you eat clean.