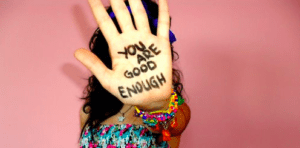 Part of my personal coaching is helping people to overcome the mental blocks that hold them back from achieving the health they desire and deserve.  Do you know the number one mental block that holds people back?
Self-Worth.
We are all so busy living full lives and serving others that we've somehow lost the art of self-care.  Caring for yourself is NOT selfish – it's selfless.  However, if you are like most people, then you find yourself saying, "I'll start that workout routine tomorrow" or "I'll begin eating healthy – for real this time – TOMORROW!  You rush through the drive-thru because you don't have time to cook.  You don't get enough sleep giving you less energy to make a healthy change. It all becomes a vicious cycle.
Can we just stop the self-depriving for a minute?  Imagine how much more we could offer others around us if we filled up ourselves – FIRST?  If we took the time to get in God's word daily, eat clean and healthy, exercise daily and get enough rest we would have so much more energy in other areas of our lives.
I get it, change is hard.  So why don't you start with a small change.  A new mindset and a guided walking challenge.  I can help you with both!
First the mindset.  Repeat after me: I will see myself as God sees me.  Chosen, Royal, Holy…His.  Here is a little scripture to back that up, "But you are a chosen race, a royal priesthood, a holy nation, a people for his own possession, that you may proclaim the excellencies of him who called you out of darkness into his marvelous light." I Peter 2:9
Now for the walking challenge.  I hold quarterly walking challenges that last 6 weeks.  I deliver a weekly motivational and directional video right to your inbox.  Grab some friends and take the FREE challenge.
Or upgrade and join my online community in the private Walk It Off Now Facebook Group for a lifetime community.  That's where all the accountability and prizes take place. Either way, make a choice to take care of YOU today.  Promise? GO here to join.  www.walkitoffnow.com If you are already in the community then no need to register again or pay again. YOU ARE IN!!! 🙂